MINISTRY SPOTLIGHT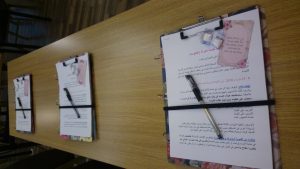 Our Ministry Spotlight for the month:   Training
Ananias House was founded to see the church in the MENA region grow. Our foundation for this growth is to equip and train leaders in the truth & the Word of God. Our different training opportunities therefore are something we are very passionate about.  In June our first Women's Leadership Training was held in Lebanon.  What an amazing opportunity to share and witness how God's been working in the lives of these women. What a humbling experience to see their joy, their fervent hope and optimism, and their contagious faith.  Some of these women have suffered indescribable losses because of the war, but one thing they haven't lost is their passion for Jesus Christ.  Some only got to know Jesus Christ, because of the devastation of the war!
We are also involved in training leaders in Turkey and have a team conducting the training there.  This training will be focusing on the journey of understanding Scripture.  In the months to come, we have Leadership training on church dynamics.
Our training in Egypt is on the book of Galatians and this training started in 5 different regions.  We are also involved in how to facilitate training for the first generation of trainees, as well as a discipleship course.
Another exciting prospect is that for the first time, we are hosting a Children's Trauma Counseling Workshop later this year.  We are incapable of dealing with all the trauma & damage – but we are capable to start equipping children and the Educators working with these children step by step.  The greatest impact of this war is not seen today, but will be seen when the war ceases, and the children exit survival mode.   Most of these kids have been born into war, and the severe emotional trauma, causes lasting changes in certain parts of the brain that is responsible for regulating emotional responses.  Romans 12:2 reminds us that we can be transformed by the renewal of our minds.  This is where trauma counseling and healing plays an important part.   These children have been exposed to violence, have seen bloodshed and had to deal with loved ones being killed.  Violence is apparent in the classrooms.  Teachers are faced with disconnection, apathy, viciousness and behavioral problems.  We are taking a team of Children Trauma Experts to help equip the Teachers. With knowledge, insight, and the appropriate tools to go back and use play therapy and age appropriate techniques, it will assist these children in acknowledging the trauma, dealing with it, and implementing techniques to develop healthy and wholesome coping mechanisms.
Please continue to pray with Ananias House for God to open more doors so the truth of His Word can be shared in more MENA countries.
Please pray for:
All trainings to bring fruit and multiply, 30, 60 and a 100.
For our brothers and sisters being trained to use the truth they learn in growing the Kingdom of God in their church, community and country.
For the Lord to continue to give us wisdom and stamina in standing in unity with His people, in guiding Ananias House to continue to see what HE has for His church.
For our indigenous leaders on the ground to remain strong and to continue to carry the mission that grew out of their faithfulness, regardless of all suffering, pain and persecution. May the Lord renew their faith and passions; especially as they get trained.
One of the pastors on the ground keeps saying, "His second coming is at the doors". Let pray that we may be prepared, equipped and ready to go HOME. Until then, may we be faithful in pressing on.
For more questions or ways to donate and get involved, please contact us: contact@ananiashouse.org