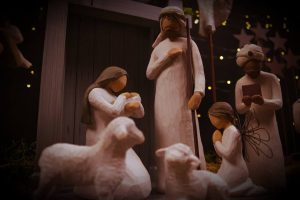 In honor of those whom the world is not worthy. Those who gave their lives and those who love them, — on December 11, 2016 in Cairo, Egypt at St. Peter's and St. Paul's Cathedrals. Your sacrifice is not forgotten.
The traditions practiced during the Christmas season make up some of my favorite times of the year. There are many different religious holidays — Christmas is different. It's a celebration! Immanuel, God with us.
"Look! The virgin will conceive a child! She will give birth to a son, and they will call him Immanuel, which means 'God is with us.'" Matthew 1:23
In many different ways and various places in the world, — Christmas is recognized and celebrated. A story birthed in the Middle East. It's not an American celebration — it's a world celebration! A heavenly celebration!
And suddenly there appeared with the angel a multitude of the heavenly host praising God and saying, "Glory to God in the highest, And on earth peace among men with whom He is pleased." Luke 2:13 – 14
Sadly, God's triumphant gift to the world — Jesus — the prince of peace, was not good news to everyone. The book of Matthew narrates for us the brutal reaction King Herod had to this news.
When Herod realized that he had been outwitted by the Magi, he was furious, and he gave orders to kill all the boys in Bethlehem and its vicinity who were two years old and under, in accordance with the time he had learned from the Magi. – Matthew 2:16
The same evil that moved King Herod, motivates violence against the followers of the cross today. A vivid display of this type of fear and hatred was played out in living color in Cairo, Egypt on December 11, 2016. An individual who believed he was doing the God of his religion homage, blew himself up in a Coptic Christian church, St. Peter's and St. Paul's. The suicide bomber targeted the section of the building where women and children are seated. It is reported that 27 people perished and over 45 were injured. The trauma inflicted on the community, and the country is undefinable. Grief is processed in tangible ways in Egypt. They are strong, passionate, and long suffering. I am reminded of the weeping of God's people in the days of Rachel, King Herod, —the Middle East today.
A sound was heard in Ramah, weeping and much lament. Rachel weeping for her children, Rachel refusing all solace,
Her children gone, dead and buried. Matthew 2:18
I have but one candle of life to burn, and I would rather burn it out in a land filled with darkness than in a land flooded with light" – John Keith Falconer
The Coptic Christian churches are not strangers to persecution. The Christian population of Egypt are the minority, and they suffer in many ways. Suffering has not extinguished the light of Christ in the hearts of Egyptian believers — to the contrary, they burn brightly. They shine even further into the darkness.
After the brutal attack on the women and children at St. Peter's, and St. Paul's the Christians choose forgiveness, as their weapon for retaliation. A Coptic Christian leader, Bishop Anba Angaelos is quoted by The Christian Post as saying: "We are praying that there is healing in the community. We are ready to and we already have forgiven people for doing this because at the end of the day, a lack of forgiveness harms us more than anyone else."
As in the day of King Herod, radical elements remain today who vehemently oppose the arrival of the Prince of Peace, Jesus Christ. Religious Holidays often usher in terror and carnage at the hands of those who radically oppose the followers of Christ.
January 1, 2011 Bomb kills 21 at Coptic Christian Church
April 9, 2017 Palm Sunday bombing kills 44
Pray for God's sovereign hand upon Egypt and it's leaders. May they be given wisdom and strength and look to the Almighty God for guidance. May they give ear to Godly and wise counsel.
Pray for God's protection about the borders of the land of Egypt. As extremest factions seek to steal, kill, and destroy the people of Egypt; may God lift of a standard of righteousness in this ancient land. So shall they fear the name of the Lord from the west and His glory from the rising of the sun. When the enemy shall come in like a flood, the Spirit of the Lord shall lift up a standard against him. Isaiah 59:19
Pray for Christians in Egypt. For I am sure that neither death nor life, nor angels nor rulers, nor things present nor things to come, nor powers, nor height nor depth, nor anything else in all creation, will be able to separate us from the love of God in Christ Jesus our Lord. Romans 8:38 – 39
Pray for Secret Believers. May they know they are not alone. May they take refuge under the shadow of His wings. May many more encounter Jesus in dreams, visions, and divine encounters.
Egyptian Christians are part of a family of believers around the word who burn brightly in the face of fierce opposition. They are people of the cross. When the fires of persecution rage — their passion for Jesus is set ablaze. Loving your neighbor takes on a whole new life. Their reach is propelled even further. Extending love and care to both Christian and Muslim alike. Reaching out to their neighbors and strangers called "refugees." Egypt continues to be a place of refuge, as it was in the days of Joseph, Mary, and baby Jesus.
Thinking of the refugee status of the holy family inspires me to love further. It encourages me to boldly step across the doorway of difference — and love well. Both, at home and abroad. What a gift God has given us — His great big love.
I called My Son out of Egypt
Joseph obeyed. He got up, took the child and his mother under cover of darkness. They were out of town and well on their way by daylight. They lived in Egypt until Herod's death. This Egyptian exile fulfilled what Hosea had preached: "I called my son out of Egypt." Matthew 2:14-15