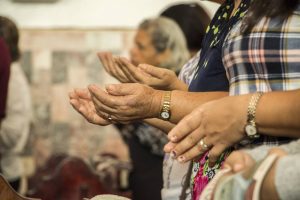 We are so thankful that we have faithful prayer partners who intercede with us.
Please pray with us for:
Please pray for Brother John as he travels to the MENA region. He will be travelling quite extensively, please pray for travelling mercies, energy and quick restoration from jet lag.  Also, pray for him for wisdom as he represents Christ.
Please pray for the persecuted churches and individuals as they face various attacks. Pray that God will comfort them as they face these oppositions and that He would give them a spirit of power, love and a sound mind.
Pray for Ananias House, as we come alongside the leaders and churches in the MENA region. Pray that God will continue to give us wisdom, to invest in areas where it can glorify the Kingdom of God and multiply His work, through the local body of Christ.
In October, an American Team will travel to the Middle East to lead a training on Leadership Development for the MENA Women Leaders. We ask you for your prayers:
– For spiritual protection and physical safety as our MENA sisters prepare for the training and travel, crossing borders, to attend the training.
"But the Lord is faithful, and he will strengthen you and protect you from the evil one.  We have confidence in the Lord that you are doing and will continue to do the things we command.  May the Lord direct your hearts into God's love and Christ's perseverance." 2 Thessalonians 3:3-5
-For an outpouring of God's Spirit as our MENA sisters are trained in servant leadership, so that through them the gospel can be advanced and the Church can radiate the glory of Christ to a hurting world.
"That the Spirit of the Lord will rest on him/her, the Spirit of wisdom and understanding, the Spirit of counsel and might, the Spirit of the knowledge and fear of the Lord.." Isaiah 11:2
– For open minds and willing hearts which can lead to spiritual healing from hurts and conflict.
"Lord who may dwell in your sacred tent? Who may live on your holy mountain? The one whose walk is blameless, who does what is righteous, who speaks the truth from their heart."Psalm 15:1-2