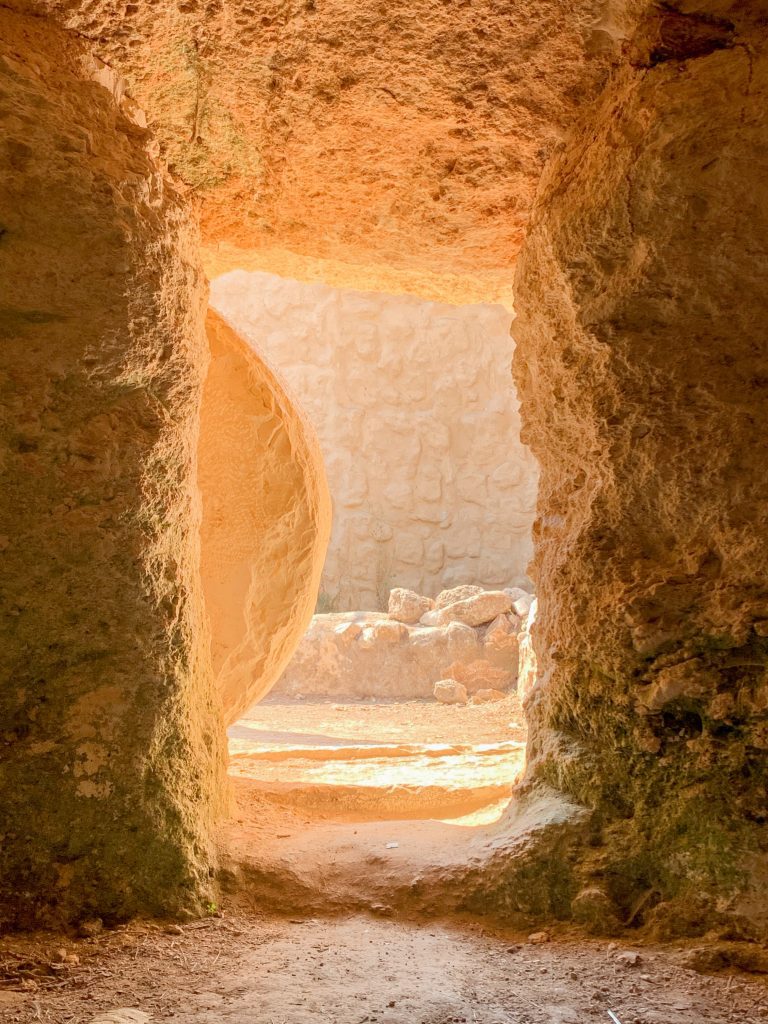 Then Jesus cried out with a loud voice, "Father, I surrender my Spirit into your hands." And he took his last breath and died. Luke 23:46 TPT
In the darkest moment in history, Jesus surrendered to the will of His Father, and breathed His last breath. His sacrifice was not quite, pretty, or comfortable. It was loud, ugly, and painful. Like my sin.
His suffering wasn't silent — "He cried with a loud voice". It was not hidden of public view — rather outload and for all to see. Raw. Real. Suffering.
On February 15, 2015 Libyan Islamic State (IS) militants released video footage of the martyrdom of Coptic Christian men in Libya. The footage of their martyrdom included a caption that read — "The people of the cross, followers of the hostile Egyptian church." The 21 men who knelt before their persecutors were identified as 'people of the cross', and asked to deny their faith or die. Many of the men are seen uttering their final words on this earth — "يسوع المسيح, Rabbina Yesua, (Lord Jesus Christ.)"
While it was reported that all of the men where Coptic Christians from poor villages in Upper Egypt; it was later discovered that this wasn't the case. One of the men martyred that day was identified as Mathew Ayairga; a young man from Chad. He is believed to not have been a Christian before kneeling in the sand beside the 'people of the cross.' Witnessing the courage and faith of the Egyptian Christians he also chose to follow Jesus. Mere moments before Matthew was executed, His executors are seen asking "Do you reject Christ?" His reply was "Their God is my God." And, then he executed — leaving his earthly body for his eternal abode.
I am reminded that the cross is much weightier then a verse in a song I sing, or design on a shirt I wear. For a follower of Jesus Christ it is a literal exchange. His life for mine and my life for His. Death for life.
Remember the word that I said to you: 'A servant is not greater than his master.' If they persecuted me, they will also persecute you. If they kept my word, they will also keep yours. John 15:20 ESV
A brother of two of the Christian men martyred that day went on live television to thank IS for including their faith filled words in the media released to the world.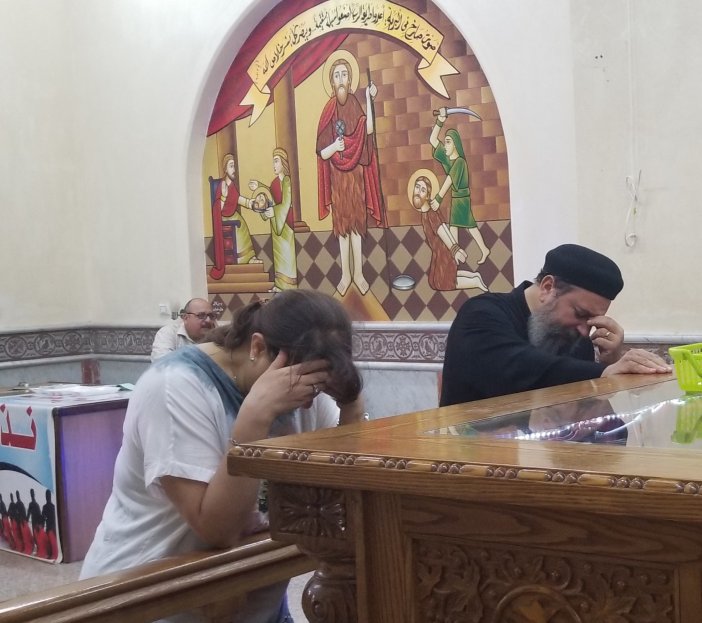 The families of the Christian men martyred on the shores of Libya publicly forgave their persecutors. Echoing the words of the One they follow.
While they were nailing Jesus to the cross, he prayed over and over, "Father, forgive them, for they don't know what they're doing." Luke 23:34 TPT
Prayer at the coffin that holds the remains of 21 Coptic Christian men martyred on the shores of Libya. February 15, 2015 Church of the Martyrs of Faith and Homeland in Al-Our village, Upper Egypt
On April 18, 2017 Necati Aydin and Ugur Yuksel and Tilmann Geske, who were murdered in their office at Zirve Publising in Malatya, Turkey.
Those who were responsible for the murders of Necati, Ugur, and Tilman weren't all strangers to these men or their families. To the contrary, one of the murderers had sought Necati out earlier pretending to be interested in his Christian faith. As described in the book titled Faithful Until Death and written by Wolfgang Haede, Necati was suspicious of this young man from the beginning. He and his wife Semse discussed this, and concluded that in spite of the young man's motives, a meeting would still offer an opportunity to share the message of Jesus with him. Later Semse would refer to those who were responsible for the murders of her husband, Ugur, and Tilman as "their Judas."
Shortly after the brutal murder of their husbands, the widows of Necati Aydin and Tillman Geske went on live television and offered forgiveness to those who stole the lives of their husbands.
"It was not easy for me to say that I forgive the killers." Semse said later at the memorial service. "To be honest, my heart is broken and my life feels shattered. I really loved Necati. He was the love of my life, my closest friend. But there is no one I love more than Jesus. Only because of this, I can bear it." – Semse Aydin from Faithful Until Death.
Forgiveness in the face of great pain is not natural — it's supernatural.
Jesus was humiliated, mocked, tortured, and unjustly crucified — for my sins. For the sins of the world. If He can forgive me — who can I not forgive?
The beauty of it all is the end of the story. He is risen! Our debt — paid in full! Past. Present. Future.
Forgiven of much. We love much.