"He who has ears to hear, let him hear." Matthew 11:15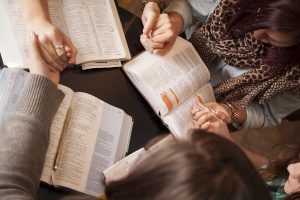 The plight of so many in this region became Nadir's own, when he was given no choice but to quickly gather his wife and two young children and flee from their homeland–everything they had known and loved.  It was in this upheaval and difficulty–settling in a new country and beginning again–that Nadir and his family would first truly hear the Gospel.  Local church members who faithfully ministered to Nadir and his family shared the Good News of their God–the God of the displaced, the poor, and forgotten. Nadir and his wife wanted to know more and soon began attending services.
The pastor of this church and his wife began to minister to Nadir and his family. Before long, they felt called to invite Nadir and his family to a conference to learn more about the Bible. But Nadir quickly said no–it would be too much time from work, too expensive, and too far away. The pastor and his wife were persistent, however–God had clearly shown them Nadir and his family should go–they even offered to pay for his family to attend. Exasperated, Nadir demanded a reason; he couldn't understand why they kept pressing him to go. Again, they told him the Lord had distinctly revealed to them he needed to take his family, God would surely provide the reason why it was so important for him to be there. Nadir finally agreed to take his family to the conference, albeit reluctantly.
On the first day of the gathering, the study focused on Jonah 1. As he absorbed the teaching, he heard of Jonah's hard-heartedness, of his unwillingness to follow God's clear direction, and how God opened his eyes. God had been calling him, Nadir, in the same way and he had refused to obey. In that moment, God revealed His purpose in having him attend the conference, for Nadir obviously saw himself in Jonah.
As the weeks progressed, Nadir's heart was softened, and the years of sermons he had heard began to make sense as the book of Jonah came to life in the conference study. During the seminar, Nadir finally obeyed and fully submitted his life to Christ…he was truly a Believer! Nadir's pastor and his wife were able to witness the lifting of the veil and the powerful work of the Spirit in Nadir's life–the Spirit who reveals truth, opens hearts, and calls us through His Word.