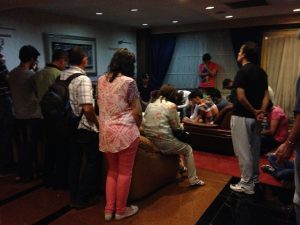 *All names have been changed for safety.
Many people in the U.S. are under the impression that the war in Syria has ended, or at the very least, is on the verge of ending. Some assume that the lives of Syrian people are better now, that the situation on the ground is not as "crazy" as it was a year ago. A trend seems to have emerged as various media outlets soften their focus on Syria and Syrian people. Sadly, as the news from Syria seems to be shared at a much slower rate, it leads many to believe that we need not think of the people there anymore. Nothing could be further from the truth.
It's a shame that our emotions are often driven by what we see and hear through an abundance of media sources. I pray that we will challenge the status quo, and sincerely look for our part in God's work in Syria. By listening, watching, learning, and reaching out — we join the story. I believe God has a unique part for each of us to play.
I recently received a phone call from a woman in Damascus; she is a follower of Jesus. Her name is Layla. Listening to her story I was reminded that while her struggles are different than ours, they carry many similarities too.
I pray that Lyla's story will encourage you, and stir fervent prayers, on behalf of afflicted Syrian people.
This is Layla's story ~
I knew Layla before the war started in Syria. She was a hard and strong willed woman. One who complained and grumbled. She knew of Jesus, and often talked about Him. When she was angry she could be heard saying words like, "God will get vengeance on this person!" Those whom she was pleased with might hear "God bless you, my dear." She had knowledge of Jesus, but lacked intimacy with Him. I loved her. At the same time, I also understood the destructive nature of her behavior.
On this particular day, Layla had called to tell me her testimony — her story. She began by saying, "Oh I cannot tell you how awesome Jesus is! It is Him that I live for. He never leaves me, never!" The passion I heard in Layla's voice grabbed my attention. I listened intently and soon realized that the atrocities of war had shaped her faith in incredible ways. I was shocked by what I was hearing in her voice. Layla's passion made me laugh, and I asked her what had happened? It was then that she began to share her story with me.
"And they overcame him because of the blood of the Lamb and because of the word of their testimony, and they did not love their life even when faced with death. – Revelation 12:11 NAS
I listened as she described living without water and electricity for days. Making it impossible for her to bathe, wash her clothes, or dishes, or do anything. She explained to me that she lives by herself with no one to look after her. She hasn't anyone. She said, "I'm a woman over 60 years of age, with no husband, or children to care for me. You know that!" I replied, "yes, I know this." Layla went on to say, "today I was sitting in tears crying out to the Lord, — throughout the war you have never left me. You kept me alive. You've never allowed a bomb, or a mortar, to hit my house. I've never went hungry as you've always provided through my pension.
Even when I walked in the street under gunfire, you protected me. I've watched others suffer and die, yet you kept me alive."
As she was reaping God's favor over her life, I felt like I was reading a chapter from the book of Psalms. I heard in her story, the same cry of David in times of trouble. Both David and Layla cried out to God in remembrance of His goodness, and pleaded for His mercy and favor.
I asked her what happened next. She said, "Oh, so I was crying in tears, and then the electricity came back on in the whole neighborhood — except in my home. I started to cry out more. Lord it is hard enough to live in the dark all alone; it is hard enough to be in this war with no way to know when things will end. I just want peace and security, Lord. Abba Jesus, have mercy on me. I am your daughter and you will not leave me. I am so tired and you will not forsake me."
She then picked herself up and went to the office that regulates electricity in her neighborhood. She asked them if there was a problem with the wiring in her house, or something of that nature. She was told that the electricity was also off in their office, making it impossible for them to leave and check her home. They told her, "Sorry, we cannot help you."
Layla was discouraged and disappointed that these men were not able to help.  She returned home before dark, and found a friend waiting at her door. Once inside Layla's home she and her friend prayed. Layla told the Lord that she trusts Him. As soon as she had finished her prayer the electricity came on!
The men from the office did not show up, but the Lord did!
"In my distress I called upon the Lord; to my God I cried for help. From His temple he heard my voice, and my cry to him reached His ears. Psalms 18:6
The joy in her voice was indescribable! In this little way, she had witnessed Jesus coming through for her.
Layla did not stop there; she continued to tell me how the friend that was over was someone who was living in much sin before. She and her friend had known each other since working together in the past. The Lord had used Layla to reach out to her with His salvation. She had invited her to church and her friend, Amira, was saved. Amira now reads the bible every day and is eager to learn from the word of God. In return, she has won her brothers and their families to Jesus. They now go to church and they read God's word daily. Layla exclaimed, "I love Jesus so much! I just want to tell everyone about him." She began naming people who she faithfully encourages to live for Christ daily.
"This war has been so hard — so hard," said Layla. After a few seconds of silence, she continued, "oh dear, it is His love and His word that keeps us alive!"
"For the word of God is living and active, sharper than any two-edged sword, piercing to the division of soul and of spirit, of joints and of marrow, and discerning the thoughts and intentions of the heart." Hebrews 4:12
My heart was so rejoicing to hear from Layla! Not only, to see that this harsh strong woman was now soft and in love with Jesus, but also to see her faith re-shaped in such a beautiful way. The Lord most certainly has used the suffering of war to reconnect Layla's heart to His. She is so excited about the salvation of her friends, and now she lives as a living testimony. A living — breathing — representation of God's grace — in spite of the war!
Let's learn from Layla. May we also lean on Him, and let's pray for His spirit to encourage the suffering body of Jesus!
The Lord can use ALL for good for those who LOVE HIM, according to
Romans 8:28.