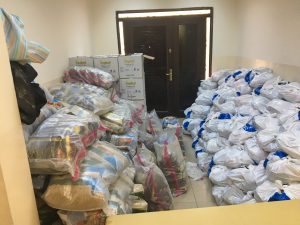 When you hear Nardin* sharing her story, you can't help but shed a few tears.
Nardin lost her husband who was shot and killed right in front of her and her two young sons. She was left alone to care for her house and to put food on the table without any income. She searched for jobs but with the current economy, no one was hiring. The cost of living was high and her sons were about to start college. All alone, struggling along with most of society of a war torn country, Nardin went to church to receive food rations. She went in and heard the word of God and her life was transformed.  She went from hopeless and helpless into a woman full of Jesus Christ. She shared Christ with her sons, and brought them with their doubts to church.  Both her sons got to know Christ. Now all three of them are being discipled and serving in the church.
Church and Relief:
The food packages that the church hands out not only fed their bodies, but also to fed their souls with the truth and salvation of Jesus, for "For what will it profit a man if he gains the whole world and forfeits his soul? Or what shall a man give in return for his soul?" Matthew 16:26
In Matthew 14, Jesus is with the hungry multitude.  He passionately met their physical needs regardless of the lack of supply. They were able to hear the truth of His word because He cared.  The church in Syria today is reaching out to those suffering. Reality is, it will take many years before Syria is even near economic stability. The church uses relief efforts to access the hearts of people and to love practically.   This way the truth of the salvation is shared with them. Many, such as Nardin and her family, are coming to know Jesus because they see Jesus through the church. The church stands as a light in the dark uncaring world; loving, preaching, and teaching about Christ.
Update:Last year, hundreds of families were helped because of faithful contributions. Nardin said with tears flowing from her eyes, "I thank the Lord for my church, and I thank the Lord for His will" 
Prayer:
Let's pray for:
·       The Syrian church to remain faithful and not to get distracted from the call that God has put before them.
·       For those suffering, to continue to find and seek refuge in the church.
·       Believers to stand strong with their community and grow in their faith.
·       For the word of God not to return void in people's hearts, but to bear many fruit.
·       For resources to continue flowing to the church so they can continue to reach out to others.
Invitation:
We invite you to partner in evangelizing with the church in feeding the displaced, the suffering and the burdened people of Syria. The church, regardless of limited resources, goes out and faithfully introduces people to Jesus. 
How to partner:
       Pray for 5 minutes a day for the work of the Syrian church.
       You can commit to feed and provide relief for one or more families by your prayer and financial contribution. $40 a month can help a family with food
             $10 a month can help a family with heating, and $20 can provide a family blankets.
        You can invite your church to partner with a church in Syria through relief.
          You can share the needs with others.
For Financial Contribution, please click HERE