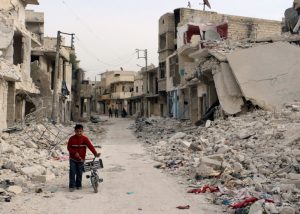 This month we focus on the persecution, conflict and violence that the Churches in certain Middle Eastern countries are facing. Brother John recently traveled to one such country, and was stunned to experience the brutality and frequency that believers are targeted. In his own words, "It has been the worst that I have ever experienced there. Emotionally and spiritually I think everyone is so drained".
In the time he spent there, a local church was attacked, the church and signs were vandalized, doors were broken down, and leaders and members threatened. Hand grenades, bombs and physical endangerment are only a few fears people deal with on a daily basis. But in all this devastation, destruction and hostility, God is alive and active and building His church. It might not be the way we anticipated, the way we envisaged, but God is working. The picture in our heads of how God reaches a nation, might be through Evangelists and revivals. But God can use any and every situation. Romans 8:28 reminds us that for those who love God, all things work together for good.
Update: In numbers never seen before, thanks to the Holy Spirit and answered prayer for revival in the region, Muslims are accepting Jesus Christ as their Savior and Lord. In the 21st century – that's only 18 years – we've seen more than three times as many Muslims come to Christ than we did in past 14 centuries – since the founding of Islam – COMBINED. Isn't that something to celebrate!?
Prayer:
Let's faithfully continue praying for:
The protection of believers in persecuted countries and that God would shelter them.
Syrian churches to remain faithful and not to get weary and lose hope.
Those suffering, to continue to find and seek refuge in the local church.
For God's people to be a light and a beacon for seekers.
For God's people to have peace and an anchor for their souls.
For wisdom and discernment in how to approach non-believers.
For boldness and confidence in proclaiming the gospel.
For resources to continue flowing to the church so they can continue to reach out to others.
Invitation:
We invite you to partner in evangelizing with the church in feeding the displaced, the suffering and the burdened people of Syria. The church, regardless of limited resources, goes out and faithfully introduces people to Jesus.
How to partner:
Pray for 5 minutes a day for the work of the Syrian church.
You can commit to feed and provide relief for one or more families by your prayer and financial contribution.

$40 a month can help a family with food.
$10 a month can help a family with heating, and
$20 can provide a family with blankets.

You can invite your church to partner with a church in Syria through relief.
You can share the needs with others.
For Financial Contribution, please click HERE