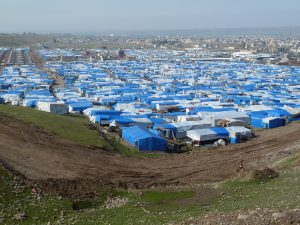 We're All One In Christ
(Written by an American Pastor)
As I read the testimonies of our brothers and sisters in war-torn Syria, refugee camps in Lebanon, and various other struggling places, it makes me realize just how different our lives are.
Many in Syria go without electricity. I have approximately 327 things in my house that run off of electricity.
Food is scarce in contentious areas of the world. I have four different kinds of ice cream in my freezer.
Bombs and bullets interrupt already nervous lives. The only thing that interrupts my schedule is the phone.
Many of our brothers and sisters have witnessed beheadings and brutalities that are unimaginable to us in America.
There are many other differences between us from skin color and religious backgrounds, to weather and political systems. It's almost as if we're citizens of a different world entirely.
And yet, even in the midst of all the differences, there are similarities. We're all human. We all have emotions and a will. Each of us have mouths that like to talk and eat, ears that like to hear soothing sounds, and bodies that have the same needs.
Above all, we're all equally sinners continually falling short of the glory of God (Romans 3:23). We all have feet of clay. None of us live up to our own standards, let alone God's.
Despite our mutual failing, we are all loved by God! "For God so loved the world that He gave His only begotten Son, that whoever believes in Him, should not perish, but have everlasting life" (John 3:16).
He bore each of our sins on the cross (1 Peter 2:24), suffered and died for each one of us. He then rose again to show power over death. And since the wages of sin is death, if He overcomes death; He overcomes sin!
He extends His Gospel love to each of us, no matter our skin color, our nationality, our present experiences, or any other difference.
We're each created in God's image and can be recipients of so great salvation!
"For as many of you as have been baptized into Christ have put on Christ. There is neither Jew nor Greek, there is neither bond nor free, there is neither male nor female: for ye are all one in Christ Jesus."–Galatians 3:27-28
In this world of division, turmoil, and divisiveness, it's nice to know there is a place where we can enjoy unity and a mutual longing for the return of our great God and our Savior Jesus Christ! Enjoy the unity that is in Christ and also shoulder the responsibilities of this union.
Pray for opportunities to:
Help the members of the Body who are hurting.
Build each other up in the faith and encourage one another.
Forgive and do all necessary to maintain peace with one another.
Share the Gospel so we might bring more into the unified Body of Christ.